Products by Type: Positive Displacement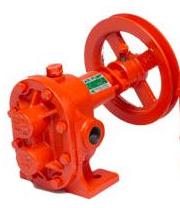 Kwikflo KGC
KGC gear pumps can be used in a wide variety of applications. These positive displacement low inertia pumps are excellent at pumping fluids at low to medium pressures. These pumps can be used to pump water and a large range of other non-abrasive fluids including oils and molasses. Very useful for pressure boosting, liquid transfer, factory process pumping and lubrication duties
Document download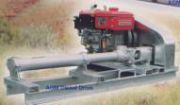 Mono AGM
The Mono AGM Long haul range incorporates a heavy duty industrial bearing housing to withstand the higher flows and pressures available in the range. Available as a bareshaft for your own drive or a fully assembled motorised unit with electric, diesel or petrol drive to suit your head and capacity needs.
Features & Benefits
Flows from 170 to 840 lpm
Heads up to 300 m
Electronic, diesel or petrol drives
Stainless steel rotating pump parts
Hard chrome plated rotor
Hot dipped galvanised baseplates
Low maintenance
Document download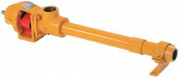 Mono ASP
The Mono Agricultural Surface Pump (ASP) is a water transfer pump and has been designed to pump potable water from rivers, dams, ponds or tanks to a desired location. The ASP has been design tested and proven in the field over a wide range of water pumping applications. It has been designed for maximum efficiency and reliability. There are two main configurations in the ASP Range; the Motorotor or Bareshaft.
Features & Benefits
Sand and silt tolerant
Easy priming
Long delivery
Consistent Flow vs Head
Shallow wells
Available in Petrol, Diesel and Electric
Document download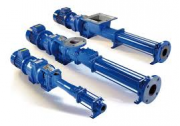 Mono Compact C
The Compact C Range of progressing cavity pumps has been manufactured by Mono to offer you a pump designed to fit into compact spaces, whilst reliably performing to the maximum duty requirements of your application. Features include good suction lift capability of over 8 metres, positive displacement for process control and variable speed for accurate dosing.
Features & Benefits
Available in cast iron or stainless steel, with a choice of rotor and stator materials
High pressure, long haul pumping, eliminating the need for a series of pumps when pumping over long distances or with high head requirements
Gentle pumping action minimises shear and crush damage
Inspection cover available for applications where rag content is a problem
Low running speeds - ideal for abrasive applications
An inspection cover available for applications where rag content is a problem
The pump can be supplied with a square inlet and conveyor to assist viscous slurries into the pumping element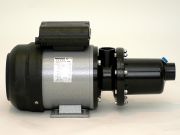 Mono CP
Mono CP pumps are designed for use where low flow or transfer duties in both domestic and industrial applications are required; these units are self-priming and achieve suction lifts up to 8 metres on water. Mono's CP Range pumps provide an economic answer to many pumping duties. Simple design and construction provide extended pump life with minimal routine servicing.
Features & Benefits
The progressing cavity pump principle ensures steady output pressure and non-pulsing flow with minimal slippage - a very useful feature when pumping heating oil to burner nozzles. The smooth action and resilient rubber stator ensure quiet running - ideal for light industrial and domestic installations. Simple design and easily dismantled, featuring an abrasion and chemical resistant stator for handling viscous liquids and random solids
Applications include:
Diesel and fuel oil transfer
Septic tank and cesspit emptying
Water supply from wells or rivers
Transferring light industrial products.
Document download