Products by Type: Ultra Violet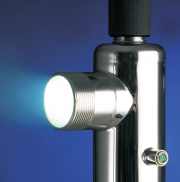 Advance UV Sterilisers
Advance UV Systems provide high quality ultraviolet (UV) systems and spare parts to potable water and wastewater treatment customers.They manufacture their own range of UV systems for a wide range of applications including drinking water disinfection, food & beverage water disinfection, process & commercial water disinfection, hot water disinfection, legionella control, swimming pool disinfection, aquaculture, sugar syrup disinfection, tank headspace disinfection, ultrapure water, greywater reuse, sewage treatment, wastewater disinfection and many more.
Document download

UV Guard Sterilisers
UV-Guard are specialists in Ultraviolet (UV) water disinfection. UV-Guard designs, manufactures and supplies an extensive range of water purification equipment, as well as spare parts for all major UV brands. UV-Guard's UV water purification systems can be used to produce ultra-pure water. No micro-organism is known to be immune to UV - even the chlorine resistant Giardia and Cryptosporidium. Economical and efficient, UV water disinfection is chemical free, with no impact on taste and no corrosion problems. UV-Guard's water purifiers are performance proven and flexible across a range of uses. Each system is designed according to the application and project requirements. Maintenance is easy with lamps able to be replaced without interrupting the water flow.
Document download